Misión del Programa de Tecnología Veterinaria
---
El Programa de Tecnología Veterinaria tiene como objetivo preparar a los técnicos y tecnólogos veterinarios con conocimientos, habilidades y actitudes para ayudar a los médicos veterinarios y brindar servicios seguros y de calidad a pacientes y clientes integrando principios éticos y conocimientos de las regulaciones federales, locales y estatales para el cuidado de los animales.
---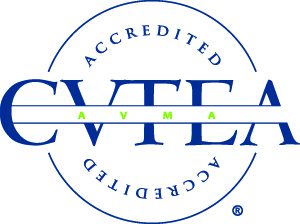 The AVMA Committee on Veterinary Technician Education and Activities (CVTEA)
---
The Veterinary Technology Program of Inter American University-Guayama Campus is accredited by the AVMA CVTEA as a program for educating veterinary technicians.
El Programa de Tecnología Veterinaria de la Universidad Interamericana, Recinto de Guayama, está acreditado por AVMA CVTEA como programa para educar técnicos veterinarios.
Initial Accreditation: February 17, 2022; Next Evaluation: 2027
---
Contácto
Directora del Programa de Tecnología Veterinaria
Profa. Madeline Villafañe Madera
email:madeline.villafane@guayama.inter.edu
Tel. 787-864-2222 ext. 2223, 2295